ABOUT US
WHO IS GENE, SEE BELOW.
| | |
| --- | --- |
| I am Gene Dixon, my wife Verna and I live in Northwest Michigan (hometown to Verna), but I am a transplant | from Bluejacket, OK and a 1947 graduate from BHS.In 1946 I enlisted in the U.S. Marine Corps and served for 20 years before retiring. After retiring from the U.S. Marine Corps in 1966 with 20 years active service and into a civilian job, I actually retired in 1988. Had to occupy my time with something, so I ventured into web sites and html and all of the other stuff that goes with it. Over the years I have created several websites, a few of them I have on the menu above. If you like, check them out.While you are here, please take time to sign our guestbook and let us know you were here.. |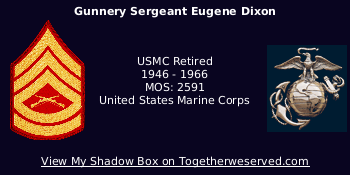 MY COUNTRY, MY FLAG
There are those in the world that would like to see this flag fade away forever. There are also those in this country that would like to remove it from our way of life. They burn it, they trample on it and desecrate it in many other ways. They call it "Freedom of Speech". To those that have this attitude, I would remind them that in some countries they would be "done away with" in short order. Their "Freedom of Speech" would be over!


For all those brave patriots that have paid the price to keep our country free and our flag waving, I say THANKS.